Either if you work in technical, creative or management positions, phpdocx is the right solution for you.
Highlights
Platform independence
No need of non-free platforms. You may create your Word documents in a LINUX, UNIX, MAC or WINDOWS web server. There is no need to install any other non-free software to create documents.
First grade support
You have access to first grade support from the very same developers that have built phpdocx. Whether you need a custom development or just some indications on how to use the library you will be able to receive support at very competitive prices.
Performance
phpdocx is fast: one may generate elaborate documents and reports in just a few hundredths of a second.
It does not require of highly sophisticated server infrastructures. It is clearly a cost-effective solution for your document generation needs.
API documentation
phpdocx offers a very complete API documentation for developers with multiple examples that streamline all the integration and development process. You will be able to generate complex Word and PFD documents from the very start.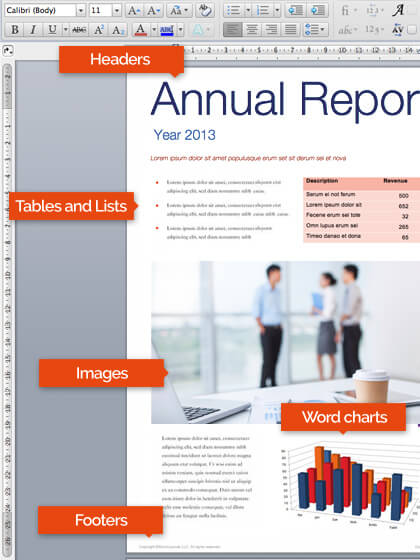 10K+
Satisfied users worldwide

99%
Accurate customer service

15+
Years of professional experience

12K
Support questions answered so far
This great library is very useful, so we use it in every project that concerns documents management. It allows us to work with very complex templates created with Microsoft Word, handle them with some PHP code and make the PDF conversion a breeze.
A plethora of features!
Encryption & Digital Signatures

Encrypt or digitally sign your Word and PDF documents directly on your web server with the help of the CYPTOphpdocx plugin and the Digital Signature Package. Native encryption and signing recognized by MS Office and Adobe PDF software.

Easy integration with CMS, CRM, ERP, frameworks...

The report generation capabilities of phpdocx may be easily integrated with other software packages like CRMs or ERPs. You may also use phpdocx in combination with Content management Systems or PHP frameworks.

Document merging

With phpdocx it is a breeze to merge multiple Word documents to generate a new one. You may preserve their sections with their own headers and footers or just extract their contents. These Word documents may have been created with phpdocx or with any other client software like MS Word.

Import content and styles from other Word documents

Import headers and footers, style sheets or arbitrary content from pre-existing Word document to integrate them in your reports build with phpdocx taking full advantage of your assets.

Embedding of external documents (Word, RTF, MHT...)

One may easily insert external pre-existing documents within your Word document with just a single command, allowing you to leverage all the value of your current document repository.




Dynamical Word charts

One of the most attractive functionalities of MS Word is the easiness to create beautiful charts that help you to illustrate your business reports. With phpdocx you may also integrate Word charts in your dinamically generated reports with data extracted from your online or local data sources.